The Takeaway: Chesapeake Collection looks to build a Bay-focused brand
By Jess Iannetta 
Read online at BizJournals.com/Baltimore
Kevin Ames and Matt Wilmer started their preppy clothing brand Chesapeake Collection while they were still in college, running the business out of the Ames family garage. Today, the business has its own space in a Hunt Valley warehouse and expects to hit $100,000 in sales by the end of the year.
The beginning
Ames, the company's COO, and Wilmer, its CEO, met at Calvert Hall College High School in Towson, where they both played rugby. Though they went to different colleges — Ames to Towson University and Wilmer to Loyola University Maryland — they stayed in touch and started a landscaping business together in summer 2014.
That business went so well that the two began brainstorming other possible ventures and eventually hit upon the idea for a clothing line. As Maryland natives, deciding to focus their brand on the Chesapeake Bay was a natural choice, Ames said.
"We grew up appreciating the Bay and we knew Maryland had an appreciation for the Bay so we figured there was a market for it," he said.
They launched the business while they were still juniors in college, with the first products debuting at the Towsontown Spring Festival in May 2015. The company now offers a variety of hats, T-shirts and other accessories, all with Bay-themed logos.
Sales are split about evenly between its online store and the 18 retail locations that carry its products. Chesapeake Collection also donates $1 per item sold to the Chesapeake Bay Foundation and has donated roughly $5,000 so far, Wilmer said.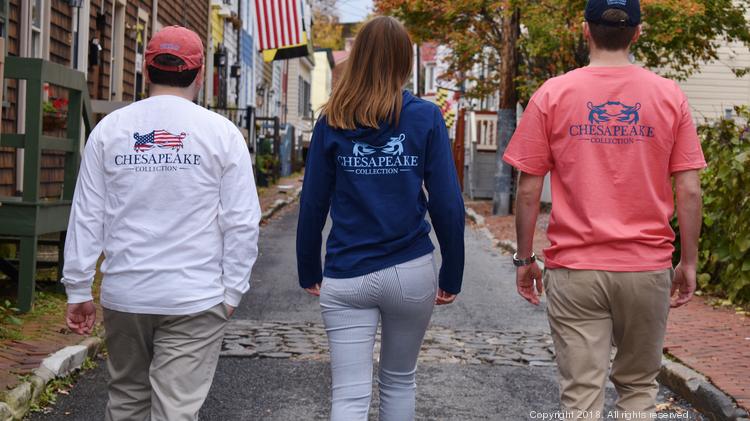 The challenges
One of the biggest hurdles the two 24-year-olds have had to overcome is their lack of experience. Having started the business while still in college, Ames and Wilmer didn't know anyone in the industry and struggled at first to figure out how to manage their inventory.
"We kind of got thrown into this right out of college," Ames said. "With that comes making a lot of tough decisions."
The two are also the company's only employees and have had to do a little of everything, from delivering and manufacturing to marketing and customer service, Ames said. Most of that delivery operation was originally based out of the Ames family garage, he added.
"But like every good company, it starts somewhere like a garage or a basement so it fits," Ames said.
The solutions
Wilmer attributes the company's ability to overcome its "knowledge gap" to being very intentional about networking and seeking out mentors.
The company, which is entirely privately funded, recently formed a board of directors to act as advisers. One of the board members is Tom Smyth, owner of Baltimore-based Smyth Jewelers, Wilmer said.
Going forward, Chesapeake Collection plans to add polo shirts to its offerings, increase its partnerships with CBF and other nonprofits, and expand its ambassador program, which consists of students who spread the word about the company.
But the company is making progress. Chesapeake Collection has moved out of the garage and into a space in a Hunt Valley warehouse that Ames and Wilmer describe as "more like a janitor's closet." Despite that, the company has done $55,000 in sales so far in 2018 and hope to nearly double by the end of the year with the holiday rush.
Both Wilmer and Ames said the best advice they would give to young entrepreneurs is to not be afraid to take the leap and start their own business.
The two said they both have friends who had ideas for companies but never pursued them. While it seems like a daunting task, it is possible "to build something from nothing," Ames said.
"Chesapeake Collection, all it was at first was an idea, but Matt and I buckled down and made a lot of sacrifices and that idea became a reality," he said.
---
Title: Co-founder and COO, Chesapeake Collection
Age: 24
Education: Bachelor's degree in mass communication/media studies, Towson University
Title: Co-founder and CEO, Chesapeake Collection
Age: 24
Education: Bachelor's degree in marketing, Loyola University Maryland
***